CONTENT
History makers
Killing for defense
Killing Bob Marley
Killing Patrice Lumumba
Killing of JFK, RFK, MLK and MX
Killing of A. Herrhausen and H.M. Schleier
Gladio, the killer nest!
Killing Palestinians and Palestine
Killing 100 Million Egyptians by cutting the Nile!
Killing by ClimateControl
Conclusion
Imperial Thugs
Killing Iranians
Enemies uniting in targeted killing for UAE!
1. History makers
People make history,
people make culture,
people develop technology.
Killing key people changes the flow of history!
Because some other people, which are weak, coward, dilettant, psychopatgic and pervert, unable to face the honest, competent and diligent, just kill these key people to prevent their success!
Do the killers really reach their goals?
Maybe for the short view, they open space for themselves, but in the long term, they have to kill and lie more to prevent from being caught for all their crimes. They roll a more growing mountain of crimes, instead of reaching any target.
Targeted killing is an evidence of weakness of arguments and policy!
2. Killing for defense
But wait, who is the real perpetrator?
Is there a reason to agree to targeted killing?
Aren't we in a state of perpetual war?
Is the killing and destroying only a reaction to an abuse, which they have been victims of?
Should the own right and freedom claimed by force or should people always be pacifists?
How can people be pacifist targeted by brutal force?
How can people be pacifist if their loved ones targeted by brutal force?
Self defense is the right of all the people!
3. Killing Bob Marley
But is it self defense to kill a musician like Bob Marley because his music is too political and honest and prevents You to abuse the music as a brainwashing tool?
Roger Steffens about Bob Marley: "
In effect his death accomplished a great deal, of what CIA trying to do, which was to prevent the music from being a political vehicle.
"
If the CIA would not consist of cowards, dilettantes, psychopaths & perverts, it would be able to win by good intentions, planning, targets and arguments.
What did the CIA deliver to replace the power of Bob Marley except trash, beginning with Rap and now Hip Hop in a row of promotion of gangster life. It produces more and more criminals, because it is a nest of criminals.
Cutting a tree is easy, but replacing it is impossible, because whatever is used to decorate the empty place, it will never fulfill the duties of a living tree!
What is the result of lies, abuse, murder, wars, ethnic cleansing and genocide?
An ideology, a faith of gangsterism!
There are stories about a retired CIA agent named Bill Oxley confessing at death bed, that he killed Bob Marley, by injecting cancer pathogens.
in German: CIA-Agent beichtet: Ich habe Bob Marley getötet!
Sonntag, 3. Dezember 2017 von © Matrixblogger.de
https://www.matrixblogger.de/cia-agent-beichtet-ich-habe-bob-marley-getoetet/
Bob Marley's death: The conspiracy
December 18, 2017
https://www.thestandard.co.zw/2017/12/18/bob-marleys-death-conspiracy/
Bob
The truth about killing by injected cancer lies in the knowledge, that cancer is a natural last survival strategy of body cells against some specific micro-parasites, which are similar to malaria pathogens.
The source of knowledge is a German physician name
Dr. Alfons Weber
. You will find a collection of info about that in the chapter about cancer here:
Autism, Cancer, Fibromyalgia, Psoriasis, MultipleSclerosis!
http://geoarchitektur.blogspot.com/p/symptom-orientation-autism-cancer.html
Or go to following German website to get more info.
Rank growth of cancer cells triggred by parasites?
Dr. Alfons Webers Parasiten-Nachweise in Tumoren
http://www.j-lorber.de/krank/krebs/webers-parasitennachweise.htm
In the picture above, they are attacking red blood cells, their preferred habitat, but they can also attack other cells. In that case they trigger the buildup of blood vessels, so the food comes for free.
Theses parasites survive cooking about 140°C. They live a multi-cellular life under comfortable conditions and separate into single-cellular when they are attacked. In this phase they are like viruses, nearly invisible.
4. Killing Patrice Lumumba
Why did Belgium and the USA ordered the killing of Patrice Lumumba?
Patrice Lumumba was a treasure of Kongo and all humanity. Killing him caused a very big damage on both.
Shinkolobwe
https://en.wikipedia.org/wiki/Shinkolobwe
"
Shinkolobwe, or Kasolo, or Chinkolobew, or Shainkolobwe, is a radium and uranium mine in the Katanga province of the Democratic Republic of the Congo (DRC), located 20 km west of Likasi, 20 km south of Kambove, and about 145 km northwest of Lubumbashi.[1][2]
The mine produced uranium ore for the Manhattan Project. It was officially closed in 2004.
"
The link between uranium from the Congo and Hiroshima: a story of twin tragedies
August 24, 2016 12.59pm BST
https://theconversation.com/the-link-between-uranium-from-the-congo-and-hiroshima-a-story-of-twin-tragedies-64329
"
The event had been organised by the Congolese Civil Society of South Africa to put a spotlight on the link between Japan and the Democratic Republic of Congo (DRC): that the uranium used to build the atomic bomb dropped on Hiroshima came from the Shinkolobwe mine in the province of Katanga.
"
"
This was the richest uranium in the world. Its ore had an average of 65% uranium oxide compared with American or Canadian ore, which contained less than 1%.
"
"
America's efforts to secure all the uranium in the Belgian Congo. This followed Einstein's warning of the risk that Nazi Germany was building an atomic bomb.
"
"
The US arranged for its wartime intelligence agency, the Office of Strategic Services, to send agents to the Congo to protect the transit of the ore and to prevent smuggling to Germany.
"
CONGOLESE URANIUM, NAZI GERMANY AND THE RACE TO BUILD THE A-BOMB
BY
SUSAN WILLIAMS
ON 6/18/16 AT 4:10 AM
http://www.newsweek.com/congolese-uranium-nazi-germany-and-race-build-bomb-471167
"
In 1939, Albert Einstein signed a letter to President Franklin D. Roosevelt warning of the potential of the Nazi regime to develop an atomic bomb. He urged him in particular to protect the uranium from the Shinkolobwe mine in the Belgian Congo—what is now Democratic Republic of Congo—which was the richest in the world: an average of 65 per cent uranium oxide, in comparison with American or Canadian ore, which contained less than 1 per cent. After Adolf Hitler's surrender in May 1945, Einstein regretted signing the letter and called on President Harry Truman to halt the atomic project. But his warning to Roosevelt had fired a starting-pistol in the race to secure the ore. General Leslie R. Groves, director of the secretive Manhattan Project, sought to obtain all the Congolese uranium for America and to prevent any of it from reaching Germany.
"
CIA activities in the Democratic Republic of the Congo
https://www.revolvy.com/main/index.php?s=CIA+activities+in+the+Democratic+Republic+of+the+Congo
"
CIA has been involved in the Democratic Republic of the Congo, especially in relation to the CIA's considerations and plans to assassinate former Prime Minister Patrice Lumumba (and accusations of CIA involvement in his eventual assassination). Patrice Lumumba was the first prime minister of the independent country.[1] Even before the independence of the Congo, the U.S. government attempted to facilitate the election of a pro-western government by identifying and supporting individual pro-U.S. leaders.[2]The CIA was also notably involved in a campaign against Lumumba's successor, which led to his eventual imprisonment and long exile from the Democratic Republic of the Congo.[3] The CIA was also a vital part of the United States' efforts to aid Joseph Mobutu, who took control of the Congo in 1965 and renamed the country Zaire and his name Mobutu Sese Seko.[4]
"
"
Patrice Lumumba was seen by the United States as a potential Communist, as he turned to the Soviet Union for aid in keeping Congo independent of Belgian rule after he had been denied aid by the United States, although Lumumba himself said he was not a communist, nor had communist tendencies. The UN instead intervened in the Congo, however was unfit and truly not designed for forceful military or clandestine intelligence support. [9] A CIA report from the September 1960 described Lumumba as a "demagogic speaker" who was emotionally convinced it was his duty to unify Congo through a strong central government.[10] This report illustrated the CIA's belief that the Soviet Union was attempting to undercut the United Nations by providing Lumumba aid outside UN channels in exchange for Lumumba being the Soviet's tool.[10] Lumumba continued to maintain that his interests were those of the Congalese majority, and described himself as a nationalist.[11]
"
"
According to then-CIA director Allen Dulles, "We conclude that his removal must be an urgent and prime objective and that under existing conditions this should be a high priority of our covert action," he noted in August 1960.[12]
"
"
He later rescinded his statement in 1962, admitting, "I think that we overrated the Soviet danger, let's say, in the Congo." [16] Some scholars speculate that Allen Dulles was a "reluctant assassin", citing his hesitance to implement the mandate of President Eisenhower.[17]
"
"
The first assassination attempt of Lumumba involved a poisoned tube of toothpaste, which was meant to induce a disease similar in progression and symptomology to polio. [20] They also had many non-lethal plans in place ...
"
5. Killing of JFK, RFK, MLK and MX
Why did some deep state people kill the Kennedy brothers?
Who are the killers of JFK, RFK, MLK and MX?
Two U.S. Soldiers Overheard JFK Assassination Plans.
By Jerry Kroth, July 11, 2018
http://www.informationclearinghouse.info/49828.htm
Which good intention did they have for the USA?
Or did they kill in the interest of another entity?
FINAL JUDGMENT The Missing Link in the JFK Assassination Conspiracy
By MICHAEL COLLINS PIPER, SIXTH EDITION (Soft cover Second Printing - 2005) BY THE AMERICAN FREE PRESS
http://americanfreepress.net/PDF/Final_Judgment.pdf
Was the intention of the killers, to bring the USA to its knees?
They succeeded!
Gotta love the "Humanitarians" who claim to be compassionate because they care about the people at the border (who they had no issue with families being separated when it happened under Obama) who ignore the Homeless problem in America

Google "Tent Cities California"

pic.twitter.com/nNdnpHj4Fh

— Superman Fan (29 Years and Counting) (@Man_Of_Steel87) July 1, 2018
Homeless People in Anaheim, California or Third World Country?
Was their intention to turn the USA into a big jail?
Mass Incarceration: The Whole Pie 2018
By Peter Wagner and Wendy Sawyer March 14, 2018
https://www.prisonpolicy.org/reports/pie2018.html
"
The American criminal justice system holds almost 2.3 million people in 1,719 state prisons, 102 federal prisons, 1,852 juvenile correctional facilities, 3,163 local jails, and 80 Indian Country jails as well as in military prisons, immigration detention facilities, civil commitment centers, state psychiatric hospitals, and prisons in the U.S. territories.
"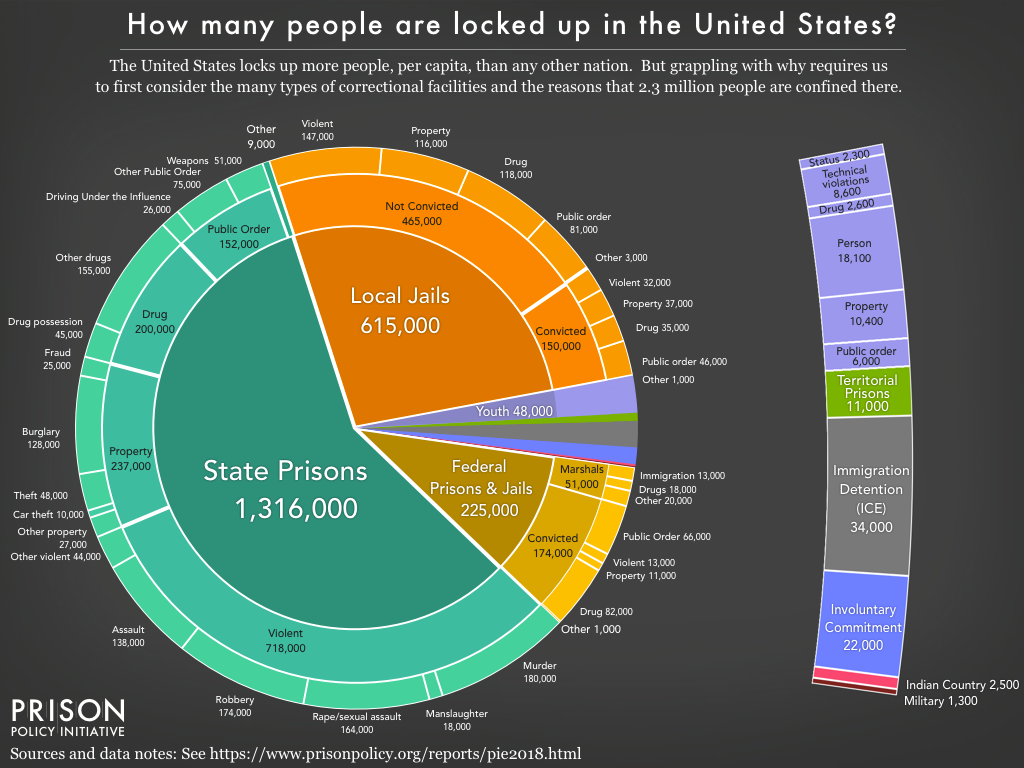 6. Killing A. Herrhausen and H.M. Schleier
Hans Martin Schleyer (HMS) was a former officer of the SS of the 3. Reich and made further career within the System of the 3. Reich. After the war his continued to climb the steps within the society and became one of the most important managers within the occupied West Germany.
Hanns Martin Schleyer 1915 - 1977
https://www.hdg.de/lemo/biografie/hanns-martin-schleyer.html
Alfred Herrhausen (AHh) was sent to the elite school of National Socialism and started his management career after the defeat in the West Zone of occupied Germany. At the peak he was the chief of the Deutsche Bank and one of the most powerful men in the world.
Alfred Herrhausen 1930 - 1989
https://www.hdg.de/lemo/biografie/alfred-herrhausen.html
Both of this men were eliminated by targeted killing?
Why was it to kill them?
Who killed them?
They were killed, because at the peak of their power they started to challenge the occupying power economically. HMS became too independent and too much demanding.
Out of patriotism or in pursuit of their defeated ideology, the National Socialism, AHh saw a possibility to attack and break the financial system at its Achilles' heel.
AHh questioned the sense of debt serfdom of the 3. World countries. He proposed to eliminate the debts of all poor countries and not put them under any debt serfdom. He was not dumb and should have known, that debt serfdom was one of the most effective imperial tools and was intentionally spread across the world.
So both of them have been killed, supposedly by the RAF (Red Army Fraction) or just blamed on them, particularly in the case of Herrhausen, the RAF did not exist any more.
What resulted from these killings is today's Germany, a totally indebted, entangled, totally spied on country. Instead of freeing the poor countries from debt serfdom, Germany has become a debt serf itself and the Deutsche Bank is a factually bankrupt finance company, which is artificially kept alive by hiding its financial trash in a shadow bank.
So targeted killing may be part of an economic war. It is always the same, by killing the uprising heads, only the coward collaborators remain in economy and politics. Germany is one of the best examples for that.
7. Gladio, the killer nest!
After the WWII, some of the Stay-Behind troops of the Nazis in Italy were integrated into the defense system of the Wester Allies, as a hidden army against the Communist danger. The center of this troop was Italy, but Gladio got affiliates in all NATO countries where the red danger was looming at the corner. Where such Fascist people did not exist yet, like in Turkey, young brainwashed men were engaged to kill some Communists or Socialists and walk free.
The killings were blamed on fake Communist terror units or declared as "by unknown offender". In Italy even the ruling prime minister Aldo Moro was killed, just to prevent him from building a coalition with Communist Party of Italy.
So targeted killings are made for political power.
8. Killing Palestinians and Palestine
Was it a good choice to poison the old man Arafat and replace him with a man without backbone like Abbas?
Any talk about war and peace is done with the real enemy and not with traitors!
How many Palestinian children do the Zionists to kill until they reach their fake paradise?
— ChannelTheRage (@channeltherage) July 6, 2018
Is what is done in Palestine the Zionist model for the world?
It seems that this will escalate more and more, all over the world.
All the world population becomes Palestinian and will be oppressed by a similar ideology like Zionism.
— Nardeep Pujji (@AWAKEALERT) July 6, 2018
#قروب_فلسطيني

Next time you get angry because your Uber is 3 minutes late, spare a thought for the people of

#Gaza

who endure hours, and sometimes days, of waiting at checkpoints to get from one part of their land to another part of their land.

pic.twitter.com/Ze5GLgCeBJ

— alQuds (@palestine_bs) July 6, 2018
— Baz4peace (@Baz4peace) June 29, 2018
— Eddie DiFruscia (@heavyde65) July 6, 2018
Zionists imagine, all the stories of Your ideology will never bring peace!
You will always fight and cause a more growing resistance, up to the point, where this resistance will run over You!
You cannot invent some stories, misread some old stories and claim the land and life of other people.
You cannot play history games with real blood and death!
If any of the stories is not just a mystical metaphor but contains some truth of injustice 2000 or 3000 year ago, You cannot claim to correct this.
Stop this idiocy!
Don't kill the people. Targeted killing was never a good idea to solve anything!
Israel's secret history of assassinations
Killing one, brings 1000 times hatred, thousands of enemies waiting for the moment of revenge!
Poisoned toothpaste and exploding phones: New book chronicles Israel's '2,700' assassination operations
Intelligence correspondent Ronen Bergman persuades Mossad agents, Shin Bet and military personnel to disclose their stories on state-sponsored killings
Ethan Bronner Sunday 28 January 2018 00:56
https://www.independent.co.uk/news/world/middle-east/mossad-assassinations-israel-foreign-operations-arafat-book-shin-bet-ronan-bergman-interviews-a8181391.html
(Incomplete) List of Israeli assassinations
https://en.wikipedia.org/wiki/List_of_Israeli_assassinations
From Targeted Assassinations to Sniper Fire, How Israel Eliminates Palestinian Resistance
Its view is that, for Israel to survive, Palestine's possibilities must be wiped out, whether the means used are targeted assassinations, sniper fire, or precision targeting of a civilian population.
by
Ramona Wadi
https://www.mintpressnews.com/from-targeted-assassinations-to-sniper-fire-israel-seeks-to-eliminate-palestinian-resistance/241717/
"Changing history by scarring society
In an interview with the Times of Israel, Bergman states:
I want to say, that from the very beginning of the state, Israeli leaders thought that secret operations and assassinations far beyond enemy lines were a useful tool to change history, or to do something to reality, without resorting to all-out war."
"
Imagine, Zionism is not a plan for ideals but a handbook of crime!
9. Killing 100 Million Egyptians by cutting the Nile!
About 100 Million Egyptians totally depend on the water of Nile river, since thousands of years.
How would they survive, if the river was diverted in in Sudan or Ethiopia?
Which other option the Egyptians have except preparing for war?
A military coalition against Egypt is formed since the 1950s. Now nearly all bilateral conflicts are mended to build a sledgehammer against any resistance from Egypt, if the 100 Million are deprived of water!
The map is from
https://thetruesize.com
and the schematic image of the GERD dam from Wikipedia (ht
tps://en.wikipedia.org/wiki/Grand_Ethiopian_Renaissance_Dam#/media/File:GrandEthiopianRenaissanceDamSaliniRendition.jpg
)
Grand Ethiopian Renaissance Dam (GERD)
https://en.wikipedia.org/wiki/Grand_Ethiopian_Renaissance_Dam
Death of the Nile: Egypt fears Ethiopian dam will cut into its water supply
Our Foreign Staff
2 OCTOBER 2017 • 7:57AM
https://www.telegraph.co.uk/news/2017/10/02/death-nile-egypt-fearsethiopian-dam-will-cut-water-supply/
"
The only reason Egypt has even existed from ancient times until today is because of the Nile River, which provides a thin, richly fertile stretch of green through the desert.

Now, for the first time, the country fears a potential threat to that lifeline, and it seems to have no idea what to do about it.

Ethiopia is finalizing construction of the Grand Ethiopian Renaissance Dam, its first major dam on the Blue Nile, and then will eventually start filling the giant reservoir behind it to power the largest hydroelectric dam in Africa.
"
"
Much depends on the management of the flow and how fast Ethiopia fills its reservoir, which can hold 74 billion cubic meters of water. A faster fill means blocking more water, while doing it slowly would mean less reduction downstream.

Once the fill is completed, the flow would in theory return to normal. Egypt, where agriculture employs a quarter of the work force, is worried that the damage could be long-lasting.

One study by a Cairo University agriculture professor estimated Egypt would lose a staggering 51 percent of its farmland if the fill is done in three years. A slower, six-year fill would cost Egypt 17 percent of its cultivated land, the study claimed.
"
Sudan and Egypt amassing troops in the border of Eritrea and Sudan
Tigrai Online, updated Jan. 8, 2018
http://www.tigraionline.com/articles/sudan-egypt-faceoff-eri.html
Sudan Tribune: Sudan, Ethiopia agree on five-year plan for military cooperation
Published on September 20,2017
https://www.borkena.com/2017/09/21/sudan-tribune-sudan-ethiopia-agree-five-year-plan-military-cooperation/
Sudan, Ethiopia agree to joint military force to protect dam
May 1, 2018 at 1:03 pm | Published in:
Africa
,
Ethiopia
,
News
,
Sudan
https://www.middleeastmonitor.com/20180501-sudan-ethiopia-agree-to-joint-military-force-to-protect-dam/
The Ethiopian Dam That's Strengthening Israel
Tigrai Online, updated Jan. 8, 2018
http://www.tigraionline.com/articles/sudan-egypt-faceoff-eri.html
Ethiopia, Sudan military chiefs agree on force to protect GERD project
Abdur Rahman Alfa Shaban 03/05 - 11:31
http://www.africanews.com/2018/05/03/ethiopia-sudan-military-chiefs-meet-agree-on-force-to-protect-gerd-project/
Eritrea - Ethiopia Relations
https://www.globalsecurity.org/military/world/eritrea/forrel-ethiopia.htm
As a Dam Rises in Ethiopia, Its Manager Is Found Dead
By
Declan Walsh
,
Somini Sengupta
and Hadra Ahmed July 26, 2018
https://www.nytimes.com/2018/07/26/world/africa/ethiopia-dam-manager.html
Israel to support Ethiopia in developing water resources: Netanyahu
Egypt is investing more than Israel to develop Africa, says analyst
Daily News Egypt
July 9, 2016
19 Comments
https://dailynewsegyptcom-mokannggxlave7h.stackpathdns.com/2016/07/09/israel-support-ethiopia-developing-water-resources-netanyahu/
"
Israel previously decided to support agriculture in Africa and is now ready to pump $13m into the sector.
This amount is below what Egypt is investing in Africa's development, which ranges between $20m and $50m.
Israel owns 400,000 acres in Ethiopia, used to produce flowers that are exported to the Netherlands, according to Noureddine.
"The Israeli experts are helping Ethiopia move from the rain-fed agriculture to irrigation," he added. The irrigation agriculture will depend on rivers, including the Nile and other rivers in Ethiopia.
Israel is not directly participating in supporting the Great Ethiopian Renaissance Dam (GERD), but it has signed contracts with Ethiopia to transport the electricity to be produced by the GERD inside Ethiopia.
"
"
Ethiopia's Renaissance Dam, expected to be completed in 2017, will divert water from the Blue Nile and ultimately reduce the flow of water to Egypt. As a result, tensions between the two countries have risen. Egypt has moved closer to Russia, which is helping it to develop nuclear energy, and distanced itself from France since French companies are involved in the Ethiopian dam project. For Israel, the consequences are all salutary, writes Evgeni Klauber:
"
"
For Egypt, a country that suffers from lack of rain, the Nile is a most important matter which shapes domestic and foreign policy. Egypt has been hit with a historic drought in the past few months, leading to a drastic receding of the Nile. The Egyptians have always tried to attract huge amounts of water to their territory. The building of the Aswan Dam in the 1960s is a prominent example of this policy. The question of water shortage becomes more acute in Egypt each passing year. The Nile, whose waters evaporate more rapidly every year, no longer provides the amount of water needed for the Aswan Dam. Even though the country' population has grown, the amount of land under cultivation has shrunk. President Anwar Sadat declared in the 1970s that "it is better that Egyptian soldiers die on the Ethiopian battlefields than that they die of thirst in their own country."
"
Who stands to gain and lose from peace between Ethiopia and Eritrea?
Jennifer Riggan
Amanda Poole
Monday 23 July 2018 15:20 UTC
http://www.middleeasteye.net/columns/who-stands-gain-and-lose-peace-between-ethiopia-and-eritrea-891710415
10. Killing by ClimateControl
The ClimateControl Mafia is changing the climate, the sunlight spectrum by poisoning air, water and soil. Consequently all life is attacked and endangered. This planned and executed crime is hidden behind the fake concern about
loss of biodiversity
.
Just because the perpetrators pretend to care, the hypnotized and brainwashed masses deem them as environment protectors. This is the power of
NLP on masses
.
Not only the stranding mammals, the dying and burning forests, the dead ashore washed fish swarms, but many more life will vanish.
Concerning the humanity, not only indigenous populations, but whole regions will be emptied or
are already
emptied for geopolitical purposes.
The worst damage is done by
Geophysical Warfare
, but people don't understand what is going on. All is covered behind some magic symptom oriented notions like "
globalwarming
" by some magic of "
positive feedback
" and "
climate change
". People deem the impact as "
extreme weather
". It is like naming nuclear bombs as falling comets or bullet as rare type of hail.
What is really done is the implementation of global Climate Control and
privatization
of the whole
water cycle
,
carbon cycle
, sunlight, air and soil!
The crime tools and methods are offered as "
solutions against climate catastrophe
" and nearly all "leaders" of the world countries sign the deal for
Climate Control, which is named Climate Agreement
! The signing was "supported" by
targeted killing with terror
.
The common dumbness of the humanity is our main problem. By
dumbification
we don't realize the abuse and even some of us take the role of henchmen. So dumbification is a powerful tool.
Our mass dumbness is their most valuable asset!
As most people don't know anything about meteorology and climatology, the perpetrators of Climate Control tell that all is "natural" and the change is to blame on the people producing CO2. So the victims are turned into perpetrators and the real gangster escape.
11. Conclusion
What "good intention" may have been behind the killing of Malcolm X, Martin Luther King and many others? What "good result" have been reached by killing them?
Have the USA become a better place to live in?
Have the USA made progress in civil rights, education and social piece?
Why could the people, who decided to kill all these men, didn't confront them politically, by dispute of words, good arguments, persuasion?
So we have to conclude that the perpetrators didn't have any good intention and good arguments!
They were cowards, dilettants!
They must have been psychopaths, perverts and criminals to seek such a solution.
The same applies for the Climate Control Mafiosi.
They cannot reach their goals by keeping the nature clean.
They cannot reach their goals without depopulation, without endangering the health and life.
They cannot reach their goals without brainwashing and dumbification.
They cannot reach their goals without targeted killings!
Their goals must be non-reachable, bad, idiotic, dumb and pervert.
So time to realize this You perverts, psychopaths and criminals.
Your characters are bad.
Your intentions are bad.
Your measures are bad.
Your goals are bad.
Your world is fake!
Your success fake!
Your medals are fake!
Your friends are fake!
Your money is fake!
It is time to stop, before being stopped with really bad consequences for You!
Stopped You must be!
12. Imperial Thugs
Obama Targeted Killing Document: If We Do It, It's Not Illegal
ADAM SERWERFEB. 5, 2013 4:53 PM
https://www.motherjones.com/politics/2013/02/obama-targeted-killing-white-paper-drone-strikes/
"
The paper states that the US government can kill its own citizens overseas if:
(1) An informed, high level-official of the U.S. government has determined that the targeted individual poses an imminent threat of violent attack against the United States.
(2) Capture is infeasible, and the United States continues to monitor whether capture becomes feasible; and
(3) the operation would be conducted in a manner consistent with applicable law of war principles.
This refers to all targeted killing—not just operations using drones, government officials could theoretically send assassins to hunt down suspected terrorists. The paper states that in order to be killed under this program, an individual must be part of Al Qaeda or its "associated forces."
"
Trump Must Expose Obama's Abuses of Power
by JAMES BOVARD, JANUARY 9, 2017
https://www.counterpunch.org/2017/01/09/trump-must-expose-obamas-abuses-of-power/
"
Trump should quickly reveal the secret memos underlying Obama's "targeted killing" drone assassination program.
"
"
At the end of Obama's presidency, the United States is bombing seven foreign nations – but most of the actions have been cloaked in secrecy, often supplemented by deceit. Opening the files at the Pentagon, CIA, and State Department on U.S. intervention in the Syrian Civil War might explain why the U.S. plunged deeper into that morass. Pentagon-backed Syrian rebels have openly battled CIA-backed rebels. The U.S. has armed and bankrolled Al Qaeda-linked groups in Syria despite federal law prohibiting providing material support to terrorist groups. The U.S. dropped 12,192 bombs on Syria last year – at a time when much of the Washington establishment and media was vilifying Obama for not intervening.
"
Trump's New Drone Strike Policy: What's Any Different? Why It Matters
by Luke Hartig, September 22, 2017
https://www.justsecurity.org/45227/trumps-drone-strike-policy-different-matters/
"
President Trump may soon approve a new drone strike policy recommended to him by his senior national security team. And based on initial reports, it's actually not nearly as bad as we might have feared. The reported new Principles, Standards, and Procedures (PSP) document, which replaces President Obama's Presidential Policy Guidance (PPG) as policy guidelines for use of force outside of hot warzones, seeks to streamline bureaucratic review processes and modify the high threshold for the use of force adopted by Obama. But in a substantial about face on Trump's tough talk, including promises to kill the civilian family members of terrorists, the new guidance preserves the Obama-era imperative to take the utmost care to prevent civilian casualties.
"
"
A centerpiece of President Obama's PPG, released in May 2013, was the stipulation that lethal force could be used only when commanders could assess with "near certainty" that civilians would not be harmed in the operation.
"
PROCEDURES FOR APPROVING DIRECT ACTION AGAINST TERRORIST TARGETS LOCATED OUTSIDE THE UNITED STATES AND AREAS OF ACTIV E HOSTILITIES
https://www.justice.gov/oip/foia-library/procedures_for_approving_direct_action_against_terrorist_targets/download
America's 500th Drone Strike

Blog Post by Micah Zenko, November 21, 2014

https://www.cfr.org/blog/americas-500th-drone-strike "The most consistent and era-defining tactic of America's post-9/11 counterterrorism strategies has been the targeted killing of suspected terrorists and militants outside of defined battlefields. As one senior Bush administration official explained in October 2001, "The president has given the [

CIA

] the green light to do whatever is necessary. Lethal operations that were unthinkable pre-September 11 are now underway." Shortly thereafter, a former CIA official told the New Yorker, "There are five hundred guys out there you have to kill." It is quaint to recall that such a position was considered extremist and even morally unthinkable. Today, these strikes are

broadly popular

with the public and

totally uncontroversial

in Washington, both within the executive branch and on Capitol Hill. Therefore, it is easy to forget that this tactic, envisioned to be rare and used exclusively for senior al-Qaeda leaders thirteen years ago, has become a completely accepted and routine foreign policy activity.

"

"

As of today, the United States has now conducted 500 targeted killings (approximately 98 percent of them with drones), which have killed an estimated

3,674 people

, including

473 civilians

. Fifty of these were authorized by President George W. Bush, 450 and counting by President Obama. Noticeably, these targeted killings have not diminished the size of the targeted groups according to the State Department's own numbers.

"
13. Killing Iranians
Israel 'welcomes' murder of Syrian scientist – but denies any involvement in assassination
Published time: 7 Aug, 2018 15:07
"

Israel's minister of intelligence says he "welcomes" news that a Syrian scientist was killed by a car bomb, even as Tel Aviv denies any part in the murder. The New York Times reported that Israel's Mossad was behind the attack.

Intelligence and Transportation Minister Yisrael Katz weighed in on allegations that Israeli Mossad agents killed Dr. Aziz Asbar near the northwestern Syrian city of Masyaf, commenting that "

assuming

that [Asbar] was indeed involved in terrorist activity, I welcome his departure from the world."

"

14. Enemies uniting in targeted killing for UAE!

We are step by step entering the feudal type of war, where the rich for their own private armies outside of any jurisdiction. One of the midget entities overestimating its money power is United Arab Emirates. The Yemeni resistance forces are already attacking military and economic facilities of the Saudi & UAE with ballistic missiles and small drones. The ruling people of the small entity still don't want to imaging that these these weapons may become able to break their economy at once.

It is an imperial war, because losing control on Yemen could trigger the breakdown of Saudi Arabia, followed by collapse of the Petrodollar system & the whole USA based imperial structure. The Saudi & UAE are entrapped in the imperial network & conduct its crimes.

1 reply0 retweets0 likes

But as the wars in Iraq, Syria & Yemen did not develop as "quick wins" like seemingly in Tunisia, Libya & Egypt, the whole framework of war has become totally absurd. The crimes will be left on the shoulders of the Saudi & Emirates. This will be enough to dump them, at the will and conditions of the empire.

Crimes of Emirates & Saudi in Yemen in one picture! This is a "moderate" one!
There is a wise word about war: "
Who draws the sword, may be judged by the sword!
"
The bombing and assassinations will create more enemies, who draw the sword!
Houthi Attacks On Economic Targets Bring Yemen War Closer To Home For Saudi Arabia And The UAE
Dominic Dudley, Contributor, Jul 27, 2018, 07:58am
https://www.forbes.com/sites/dominicdudley/2018/07/27/houthi-economic-targets-yemen-war-saudi-uae/
Saudi Coalition Faces Continued Retaliation As Yemeni Drone Again Strikes Dubai International Airport
Yemen has promised to continue to strike territory inside of Saudi Arabia and the United Arab Emirates until the U.S.-backed coalition halts its bloody war on the country.
by Ahmed Abdulkareem
https://www.mintpressnews.com/yemen-claims-second-successful-drone-strike-against-dubai-international-airport/250147/
Dubai airport hit in second Yemeni drone strike: TV
Sun Sep 30, 2018 07:42AM
https://www.presstv.com/Detail/2018/09/30/575617/Yemen-drone-attack-Dubai-international-airport-Saudi-Arabia
UAE denies report of Houthi drone attack on Abu Dhabi airport
WORLD NEWSJULY 26, 2018 / 4:39 PM
https://www.reuters.com/article/us-yemen-security-emirates-attack/uae-denies-report-of-houthi-drone-attack-on-abu-dhabi-airport-idUSKBN1KG23W
Please read the following complete article of BuzzFeedNews. I am only quoting from there!
American Mercenaries Were Hired To Assassinate Politicians In The Middle East
Aram Roston, BuzzFeed News Reporter, Posted on October 16, 2018, at 5:53 a.m. ET
"
There was a targeted assassination program in Yemen. I was running it. We did it.
"
https://www.buzzfeednews.com/article/aramroston/mercenaries-assassination-us-yemen-uae-spear-golan-dahlan
"
But now they were working for a different master: a private US company that had been hired by the United Arab Emirates, a tiny desert monarchy on the Persian Gulf.
...
For months in war-torn Yemen, some of America's most highly trained soldiers worked on a mercenary mission of murky legality to kill prominent clerics and Islamist political figures.
...
Their target that night: Anssaf Ali Mayo, the local leader of the Islamist political party Al-Islah. The UAE considers Al-Islah to be the Yemeni branch of the worldwide Muslim Brotherhood, which the UAE calls a terrorist organization. Many experts insist that Al-Islah, one of whose members won the Nobel Peace Prize, is no terror group. They say it's a legitimate political party that threatens the UAE not through violence but by speaking out against its ambitions in Yemen.
...
The company that hired the soldiers and carried out the attack is Spear Operations Group, incorporated in Delaware and founded by Abraham Golan, a charismatic Hungarian Israeli security contractor who lives outside of Pittsburgh. He led the team's strike against Mayo.
...
Spear Operations Group's private assassination mission marks the confluence of three developments transforming the way war is conducted worldwide:
Modern counterterrorism combat has shifted away from traditional military objectives — such as destroying airfields, gun emplacements, or barracks — to killing specific individuals, largely reshaping war into organized assassinations.
War has become increasingly privatized, with many nations outsourcing most military support services to private contractors, leaving frontline combat as virtually the only function that the US and many other militaries have not contracted out to for-profit ventures.
The long US wars in Afghanistan and Iraq have relied heavily on elite special forces, producing tens of thousands of highly trained American commandos who can demand high private-sector salaries for defense contracting or outright mercenary work.
...
One of the mercenaries, according to three sources familiar with the operation, used to work with the CIA's "ground branch," the agency's equivalent of the military's special forces. Another was a special forces sergeant in the Maryland Army National Guard. And yet another, according to four people who knew him, was still in the Navy Reserve as a SEAL and had a top-secret clearance.
...
Despite operating in a legal and political gray zone, Golan heralds his brand of targeted assassinations as a precision counterterrorism strategy with fewer civilian casualties. But the Mayo operation shows that this new form of warfare carries many of the same old problems. The commandos' plans went awry, and the intelligence proved flawed. And their strike was far from surgical: The explosive they attached to the door was designed to kill not one person but everyone in the office.
...
Golan replied with bravado. Wanting Dahlan to know that he could shoot, train, run, and fight better than anyone in the UAE's military, Golan said: Give me your best man and I'll beat him. Anyone
."